Stars Wars Battlefront llegó a convertirse en un título casi imprescindible para los amantes de la saga. Creó un precedente dentro de los juegos multijugador y de las partidas en red. Ahora vuelve, pero incidiendo en el modo de un solo jugador y con una historia más elaborada.
El universo Stars Wars es fascinante, los soldados de la República, El Imperio, El Lado Oscuro, los maestros Jedi… todo es tratado de forma grandilocuente y atractiva. Con este juego nos vemos inmersos en la película de forma activa, no seremos un mero espectador; la unidad de La República, o al revés, del Imperio, estará en tus manos. Cuando George Lucas creó este mundo tan sobradamente detallado no se dio cuenta de las dimensiones de la obra, en un futuro todo el mundo veneraría la que es ya la saga más importante del cine de ciencia ficción. Por eso, todo ese universo se reconstruye ahora en la obra (casi) definitiva de Star Wars, creando una experiencia de juego increíble.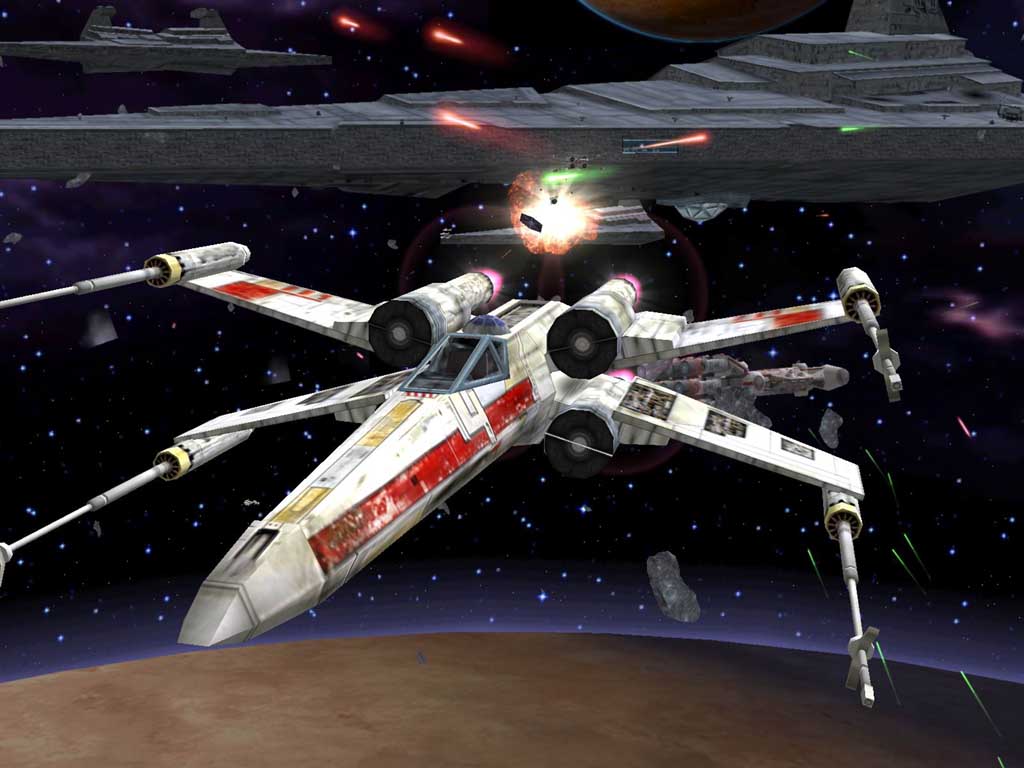 Si una primera parte funciona…
En esta nueva odisea nos vamos a encontrar con más de lo visto anteriormente, pero elevado a un exponente mayor. En esta entrega veremos de nuevo los extensos territorios, las armas y vehículos de la Guerra de las Galaxias, todo el espectro de planetas que visitamos en aquella ocasión…Pero no es lo mismo.
Para este juego se ha potenciado la variedad de situaciones y ahora podemos contar con nuevos recursos, como por ejemplo las naves estelares, cuya aparición brillaba por su ausencia en la primera parte. Ahora es el turno de estos "kamikazes galácticos", podemos disfrutar llevando un caza explorador o multiusos, una aeronave de transporte y ataque o un bombardero. En todos los bandos estarán disponibles y listos para el asalto.
¡Necesito la ayuda de un Jedi!
Una de las novedades más atractivas de este Battlefront II, además de los cazas, son los héroes que se olvidaron en la primera aventura. Será un verdadero placer poder hacer una llamada de auxilio a un caballero Jedi. Estos poseen habilidades especiales que los demás personajes no tienen y pueden hacerte vencer más fácilmente. Al cumplirse ciertas condiciones, aparece un mensaje en la pantalla que nos indica su disponibilidad. Tenemos que tener cuidado porque si nos dañan puede repercutir en el tiempo limitado que podemos hacer uso de el. Por otro lado, al derribar enemigos el tiempo aumentará y dispondremos de nuestro héroe un rato más. Si en mitad de la partida este es aniquilado, en fases avanzadas de la partida puede volver a aparecer.
Nuestros personajes sorpresa pueden estar representados por el mismísimo Darth Vader, por Luke Skywalker o el poderoso Emperador Palpatine, además de otros personajes famosos de la saga Star Wars.
Si tú me dices ven, lo dejo todo…
En esta ocasión se ha dado una gran importancia a la historia para un solo jugador, a lo largo de 17 niveles podemos surcar la galaxia por todos los planetas y ambientes disponibles. Para este modo de campaña estaremos inmersos en el ejército del 501 escuadrón clon. Ni que decir tiene que la historia ha adoptado una mayor coherencia gracias a que a lo largo de los numerosos niveles pertenecemos en exclusiva a esta facción. En estas batallas (enclavadas dentro del modo historia) nos veremos las caras con el ejército de droides de la época de las Guerras Clon. Nuestro equipo está compuesto de un ejército de caballeros Jedi de La República. Más adelante las tornas se cambiarán y pasaremos a cumplir órdenes del Imperio y lucharemos contra La República.
En cuanto a las partidas de la campaña, estas se dividen en El Auge del Imperio, Conquista Galáctica y Acción instantánea. La primera es el modo historia, pero las otras dos se dividen en atractivos modos que harán que afloren nuestras dotes de estrategas. Es por ello que, en la Conquista Galáctica, el jugador ha de hacerse con el control de los planetas y dominar la galaxia. Para llegar a la victoria hay que conquistar todas las bases enemigas y derrotar sus flotas. Este tipo de campaña se juega por turnos y es uno de los modos de juego más adictivos.
Dentro del modo de Acción Instantánea, como su propio nombre indica, pasaremos a la acción de inmediato, sin dilaciones. Se nos pondrá en un escenario donde la guerra está en marcha. Aquí tenemos varias modalidades a su vez, el modo conquista, donde capturamos todos los puestos de mando; Clb de 1 bandera, es el clásico capturar la bandera; Clb de 2 banderas; Caza, donde el equipo cazador debe eliminar al equipo cazado sin gastar el tiempo. Sin embargo el equipo cazado debe sobrevivir; Asalto, donde debemos marcar puntos con la destrucción de unidades enemigas; Eliminación, en el que se gana si has destruido todos los refuerzos enemigos.
Más de lo mismo pero mejor
Y hasta aquí puede resumirse lo que es el nuevo Battlefront II en sus modos de juego. En cuanto a la estética del programa en si, no hay duda de que estamos ante un verdadero calco del original. Algunas ideas nuevas se pueden ver, pero por regla general no ha cambiado mucho. Todos los modelos gráficos son un fiel reflejo de los visto en Star Wars (la película) y su imaginería ha sido fielmente enclavada. No hay duda del gran nivel de los chicos de Pandemic a la hora de trabajar duro.
Del audio solo puede hablarse maravillas porque las andanadas de sonido envolvente son de lo más exquisito. Incluso la banda sonora de la película es la original. No hay dudas de que esto es Star Wars, supura su universo por todos los poros.
Requisitos mínimos de sistema
—————————
Ordenador
——–
Mínimo: ordenador compatible con DirectX 9.0c.
—
CPU
—
Mínimo: Intel Pentium 4 1,5 GHz o AMD Athlon XP 1500+.
Recomendado: Intel Pentium 4 2,8 GHz o AMD Athlon XP 2800+.
——
Memoria
——
Mínimo: 256 MB de RAM.
Recomendado: 512 MB de RAM.
————-
Tarjeta gráfica
————-
Mínimo: tarjeta gráfica 3D de 64 MB con capacidad para Transform and
Lighting (T&L) por hardware.
Recomendado: tarjeta gráfica 3D de 128 MB con capacidad para Vertex
and Pixel Shader (VS/PS) por hardware.
———-
Tarjeta de sonido
———-
Mínimo: dispositivo de sonido compatible con DirectX 9.0c.
——
DVD-ROM
——
Mínimo: unidad de DVD-ROM.
Recomendado: unidad de DVD-ROM de velocidad 4x.
————
Dispositivo de entrada
————
Mínimo: teclado y ratón.
Opcional: joystick y gamepad.
pinchen la imagen tambien:
para que esten mas seguros.
links de 100 mb cada uno el ultimo de 30 mb……….XD:
en formato rar.